Semi Permanent Makeup
Imagine having flawless Make-up all day long… that's where Semi Permanent Makeup comes in!
Boosting your confidence, freshening up your appearance and even making you look years younger… this treatment is designed to last all day everyday therefore you will always look and feel your best.
This state of the art procedure has been used by many celebrities by the likes of Madonna, Elizabeth Taylor, Angelina Jolie and even Prince!
Beyond the mere aesthetic value, savings in time and money – it is now the 'Makeup of the Future'  so why not take a look at our range of treatments below for more information and prices…
Semi Permanent Eyebrows
Eyebrows frame the face and when a set of brows are designed correctly, they can lift the eyes and give a more youthful appearance to the face.
We can provide a full range of colour pigments and create natural hair strokes through to solid colouring however you desire.
Once you have chosen the perfect look for yourself, we can then work with your existing hair to create bespoke brows with a natural finish perfectly suited to you.
Say goodbye to everyday pencilling!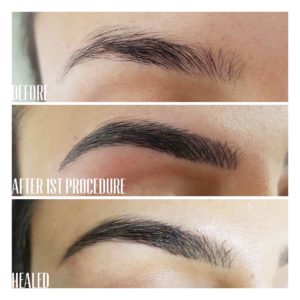 Semi Permanent Eyeliner
Eyeliner is perhaps the most effective way to beautify a woman's eyes as it adds depth and definition to the eyes.
Colour, thickness and shape will be discussed during consultation.
You may think that the eyeliner will be extremely uncomfortable, but the thin skin on the eyelids responds really well to the topical anaesthetics that we use so it's almost completely pain free!
Single (top or bottom) or double (top and bottom) eyeliner is available.
Please note that I cannot create:

Tattoo large flicks on the edges of the eyeliner;
Tattoo the wet area of your eyelids;
Tattoo the tear duct;
Join the corners when doing top and bottom eyeliner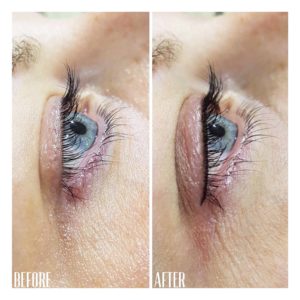 Semi Permanent Lips
A lip procedure gives colour and definition to the lips so that they will look fuller and more in shape.
Lips can be defined with subtle colour closely matched to your natural shade, or something a little more prominent.
If you decide to wear lipstick after having your semi permanent lip procedure done, it'll mean that your lipstick will not bleed, so it helps to keep your lipstick looking perfect all day long!
The lips do heal about 50-70% lighter so they will be much stronger and brighter in colour immediately after the procedure than when they are healed.
3D lip blush or full lip colour procedures are available!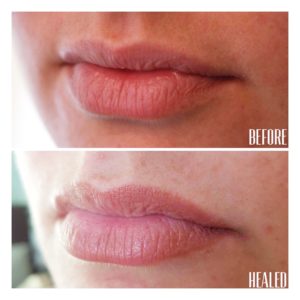 Prices
Eyebrows
First procedure – £150 (2 hours)
Top-up – £100 (1 1/2 hours)
Single Eyeliner
First procedure – £100 (1 1/2 hours)
Top-up – £75 (1 hours)
Double Eyeliner
First procedure – £125 (1 3/4 hours)
Top-up – £100 (1 1/4 hours)
Lip Blush
First procedure – £150 (2 hours)
Top-up – £100 (1 1/2 hours)
Full Lip Colour
First procedure – £175 (2 1/2 hours)
Top-up – £125 (2 hours)
Optional anaesthetic patch test available for all semi permanent makeup.
For best results, a top-up is needed 4-6 weeks after the first procedure.
Eyeliner may require multiple procedures, particularly if a thicker look is desired.
Top-ups from another technician are considered a first procedure and you may require a top-up 4-6 weeks later depending on how much pigment is left and how much we alter the shape/colour.
How long does it last?
Eyebrows last on average 1-2 years before a top-up is needed.
Eyeliner lasts on average 8 months-1 year before a top-up is needed.
Lips last on average 3-4 years before a top-up is needed.
Please remember you cannot have a Semi Permanent Makeup procedure if you are:
• Under 18 years of age
• Pregnant/breastfeeding
• Haemophiliac
• Hepatitis C positive
• 5 weeks pre/post radiotherapy/chemotherapy treatment
• Using Antabuse/rooaccutane or warfarin
• Under the influence of drugs and alcohol
• Epileptic and have had a seizure within the last 2 years
Additionally, if you suffer with cold sores and have visible evidence of cold sores/blisters or skin disorders on the area that need treating – you will need to rearrange your procedure for another time once symptoms have subsided.
It is advised that you will need to use an anti-viral drug five days prior to any lip work and five days afterwards as well.